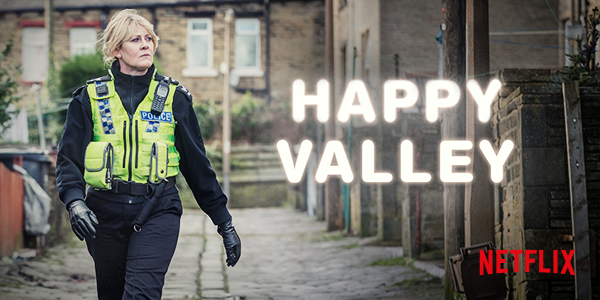 Cop dramas don't usually make my list of favorite TV shows, with
True Detective
,
The Wire
, and
Top of the Lake
being the most notable exceptions. Well, now I have one more to add: the BBC's
Happy Valley
.
A six-episode miniseries,
Happy Valley
follows Sergeant Catherine Cawood on a mission to avenge her daughter Becky's death. Nearly nine years ago, Becky was impregnated by her rapist, Tommy Lee Royce. After having the baby, Becky commits suicide, leaving her mother Catherine with no choice but to raise the baby. Catherine's decision to keep the boy splits her grief-stricken family in two: her husband divorces her, and her son disowns her.
Eight years later and the Cawood family is trying to maintain very tenuous bonds. Catherine is struggling to raise her troubled grandson while also cleaning up rampant drug-dealing on the streets. When she hears that Ryan's father, Tommy Lee Royce, has been released from prison, Catherine becomes hell-bent on bringing him to justice for her daughter's rape. What she doesn't know is that Tommy Lee Royce is embroiled in a new sinister kidnapping plot that is quickly becoming something much worse.
The British Meryl Streep
Aside from a solid, suspenseful plot that builds tension and raises the stakes throughout the six-episode arc,
Happy Valley
is filled with strong performances, especially from Sarah Lancashire in her role as Catherine. I've come to think of Lancashire as the British Meryl Streep, and not just because they're both sophisticated blondes. Lancashire plays an incredibly strong, complex female character, who, despite her inner demons, is extremely likable. I like her for raising that poor boy, Ryan, even though initially she doesn't want to, and I love her for protecting him and defending him the way she does. Catherine is the type of person who will help anyone without expecting anything in return, and she is so well-developed, and so well-acted, I quickly became invested in her story.
If you like gritty cop dramas with leads who are broken yet inexplicably strong, if you like suspense and tension so tight you feel like you're being hanged, and violence so brutal you yourself feel bruised, watch
Happy Valley
. On Netflix and at Amazon.